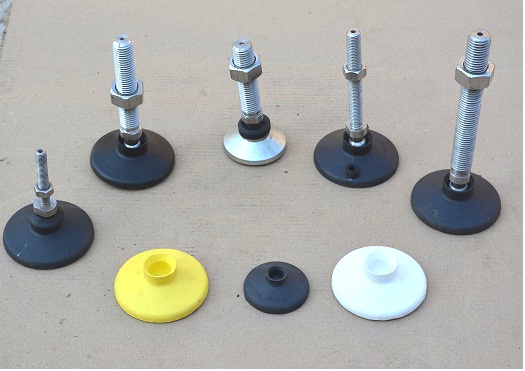 ARTICULATED FOOT ANTIVIBRATION
Anti-vibration Mounts Anti vibration solutions, leveling feet, anti-vibration components: this line is particularly indicated to solve vibration problems.
Articulated feet is called level accessories feet ,level accessories feet stem, and high articulated bolt feet. Articulated feet is an accessories by thread to highly adjust ,there are a lot of type for your custom-madedifferent types , it is used for ad justing of transporting high or low level and slant. Articulated feet is one of necessary accessories ,it tight link conveying equipment and base to keep level .
PART NO
A
SPINDAL MATL.
SUAFP/01/001
50 mm TO 300 mm
AISI 304
AISI 316
M.S PLATED
BASE MATERIAL - P P C P PLASTIC (BLACK)/WHITE
STUD MATERIAL - S.S.304, S.S.316L, M.S.Ni. PLATED
ANTISLIP DISC - NRB RUBBER(ACID RESISTANCE)
MAX.STATIC LOAD - 350 Kg.
ANTISLIP DISC - 70 SHORE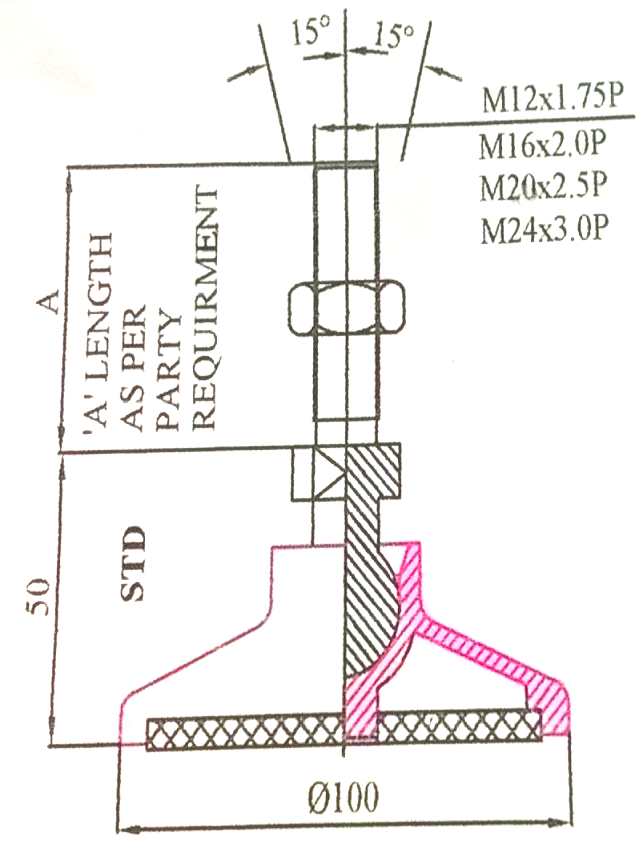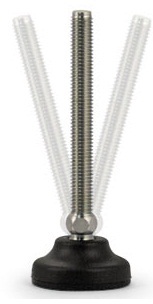 FOR GROUTING
PART NO
A
SPINDAL MATL.
SUAFPGr/02/002
50 mm TO 300 mm
AISI 304
AISI 316
M.S PLATED
BASE MATERIAL - P P C P PLASTIC (BLACK)
STUD MATERIAL - S.S.304, S.S.316L, M.S.Ni. PLATED
ANTISLIP DISC - NRB RUBBER(ACID RESISTANCE)
MAX.STATIC LOAD - 350 Kg.
ANTISLIP DISC - 70 SHORE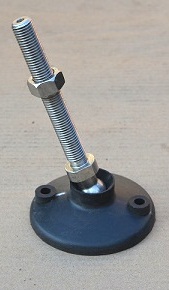 FOR HEAVY LOAD
PART NO
A
SPINDAL MATL.
SUAFM/01/003
50 mm TO 300 mm
AISI 304
AISI 316
M.S PLATED
BASE MATERIAL - M.S.Zink (Blue) / S.S. - 304
STUD MATERIAL - S.S.304,S.S.316L,M.S.Ni. PLATED
ANTISLIP DISC - NRB RUBBER(ACID RESISTANCE)
MAX.STATIC LOAD - 1000 Kg.
ANTISLIP DISC - 70 SHORE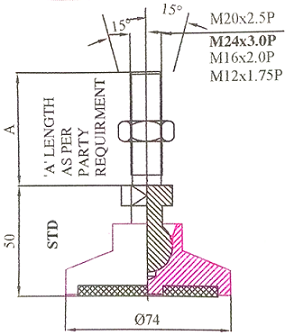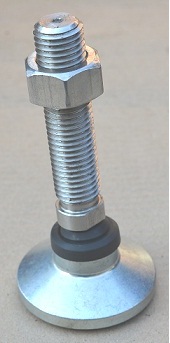 ARTICULATED FOOT
PART NO
A
SPINDAL MATL.
SUAFP/01/001
50 mm TO 300 mm
AISI 304
AISI 316
M.S PLATED
BASE MATERIAL - P P C P PLASTIC (BLACK)
STUD MATERIAL - S.S.304, S.S.316L, M.S.Ni. PLATED
ANTISLIP DISC - NRB RUBBER(ACID RESISTANCE)
MAX.STATIC LOAD - 75 Kg.
ANTISLIP DISC - 70 SHORE