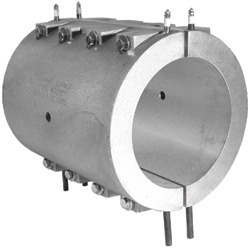 Aluminium Casting Heater
This Heater can be manufactured in STRIP TYPE & BAND TYPE.
Aluminum Cast Heaters offer a high quality and efficient method of heating and controlling Extruders, Compression Molding Platens, Heat Sealers, Vacuum Forming Platens. All Aluminum Cast Band Heaters are customized. The Tubular Heating element is embedded in the Aluminum Cast Band Heater & machining is to be done to get the required size.
Cast Alluminium is utilized for uniform heat distribution for consistency of heat and higher efficiency. Thermal conductivity of Alluminium allows precies uniform temperature on the component surface, elevating hot or cold spot that may affect equipment performance.It consist of tabular heater which is recognized for reliability, strength and adaptability.
Types of Cast Heaters
Air Cool Cast Alu Heater
Water Cooling Cast Heaters
L and U shaped Cast Heaters
Features
Finds wide application in extruders, lamination plant, injection moulding, extrusion die heads and different types of machinery
Can be customized for variety of thermal option
Advantages
High thermal conductivity
Exceptionally long life
Resistant to contamination
Accurate control of temperature
Quick Fact
If Heating is your Problem ... We are your Solution.
CALL TO ACTION