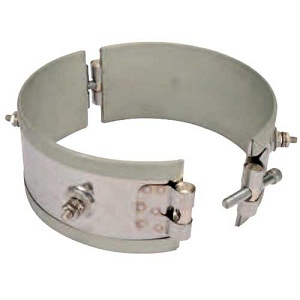 MICA BAND HEATER
Mica Band heaters are efficient and economical solutions to the heating requirements of many applications.
Mica band heaters are made up of G.I /S.S / BRASS material attached to mica band or sheet. These types of heaters are useful up to low temperature and high energy saving applications. Our latest technology ensures mica band heaters are made uniform heating in all around heated medium with specified ampere rate.
It provides excellent thermal conductivity as heat transfer is by "conduction".Due to its best heat transfer capability, faster heating up & cooling down is possible.
Features
Consist of mica & mica sheet and can work upto 600°C.
Ni-corme 80/20 strip wire.
Max working temperature up to 350&degC.
Packing density 20 W/sq inch.
Can be made with or without jackets in order to save power for different applications.
Applications
Heating for plastic processing machinery.
Moulds and Dies
Rubber Industry.
Quick Fact
If Heating is your Problem ... We are your Solution.
CALL TO ACTION